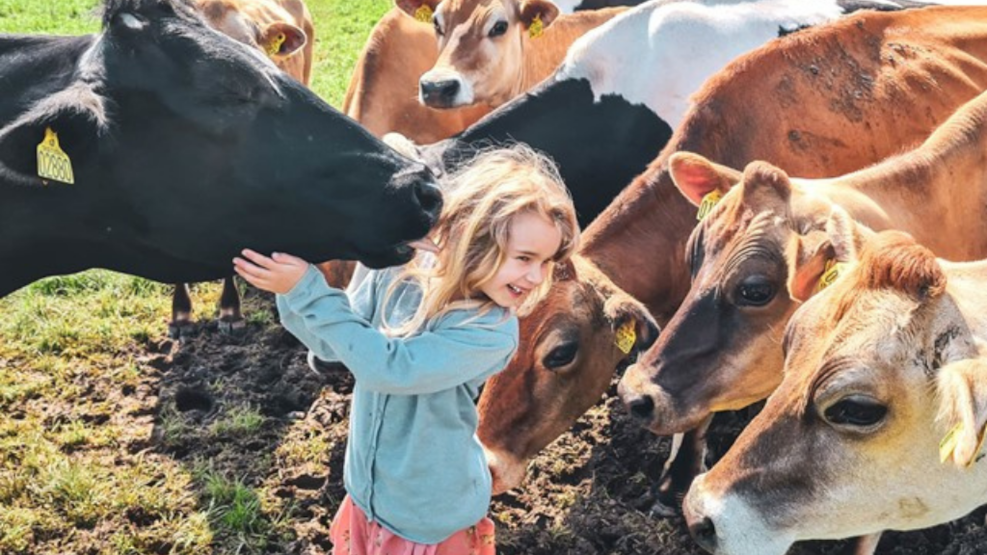 Tranegaard | Experience country life
Tranegaard in Laugø is an organic visitor farm for the whole family with jersey cows, calves, goats, rabbits, pony riding, chickens and fun for the children. Here is a cosy cafe and a farm shop with delicacies from the farm.
Tranegård is located in the village of Laugø in North Sealand. From ancient times, the area is characterized by small farms and homesteads, and Tranegården stands out with its jagged gables and beautiful white buildings.
The farm has since the dawn of time been run as a real farm with cows and pigs, chickens, sheep and men and girls on the farm. In 2018, the farm was converted to ecology and in March 2021, dairy cows came to Tranegård again. At Tranegård, they strive every single day to ensure that the farm is run sustainably.
There are high standards for animal welfare and it is very important that the animals thrive and have good opportunities to develop their natural behaviour. Throughout the summer, the jersey cows walk on the farm's fields and munch on clover and grass. The winter is spent in the farm's loose stables where the cows thrive in lots of golden straw.
The ecological cycle is of great importance for the daily operation of the farm. It is important for the residents of Tranegård to share the story of honest and authentic organic farming. They want to give their guests new knowledge, inspiration and an interesting and cosy visit to the farm.
Enjoy the season, the tranquillity, the scents and the view of the happy animals grazing on the farm's green fields, while the children play with the goats or the cute rabbits and the whole family tastes the lovely homemade ice cream, handmade from the milk from the farm's organic Jersey cows.
The farm shop
The farm shop sells the lovely food that comes from the farm's fields or other good local organic producers. The goods sold are based on local and good raw materials.
You can buy:
Sandwich with bread baked from flour of the farm grain
Ice cream, handmade from the milk from the farm's organic Jersey cows
Meat, from the farm's cattle herd
Coffee, fair trade and fresh organic Jersey milk
Milk, organic and freshly bottled from the farm's cows
Yoghurt and chocolate milk, made from the cows' milk
Bread baked from the grain from the farm fields
Flour of grain from the farm's organic fields ground on a stone grinder
Lentils and peas from the farm's organic fields
Pancakes with ice cream
How to get there?
You will find Tranegård in Laugø a little north of Helsinge. There is a cycle path to the door and the local train stops at Troldebakkerne which is the new district north of Helsinge - from here is a 10-minute walk to Tranegård.