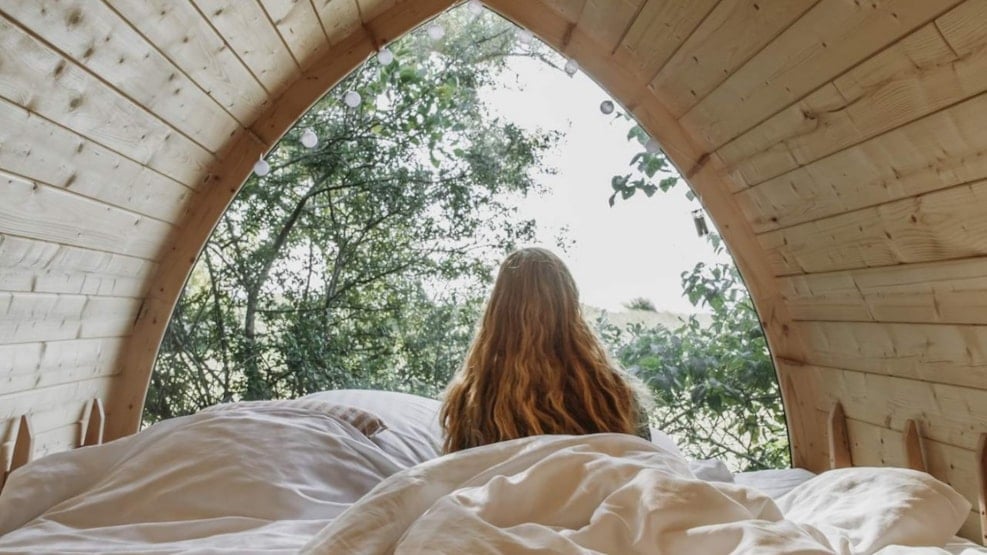 Unique surf shacks in Lynæs
At Lynæs Surfcenter, you can spend the night in a surf hack. You definitely do not have to be a surfer to book a stay in the cottage, but it helps, if you love looking at the water. 
The new surf hack is a beautiful, black cabin that differs in form and expression from everything else you have tried.
It is located in nature, about 14 pebbles from the water and with superb views of the Isefjord, where surfers, sailors and swimmers decorate the blue element all year round.
You get glamping for every penny when you live in the surf hack, and your night's sleep will no doubt feel a little outdoor-like because you sleep with your face all the way up to nature. The huge window that fills the whole of one end is the cabin's stroke of genius because you can follow the sky and the movements of the sea right outside - while you snuggle under the duvet and take an extra cup of warmth.
At the other end of the surf hack, there is a small dining area that can be converted into an extra sleeping area. Also with a nice view.
Wilderness spa in the open air
Outside the shack, you can continue to enjoy your stay in the wilderness spa, which also has a wild view over the water. The sauna is another option, and it frames in the same way - water everywhere.
A fun day on the water
Do you like the water, there are oceans of activities to choose from. Lynæs Surfcenter, where the surf shacks are located, offers both kite and windsurfing courses, and you can also rent SUPs and kayaks on site.
So if you fancy a slightly different overnight stay that rhymes with glamping and outdoor, you should definitely check out Lynæs Surfcenter's new cabins.
Practical information
Double bed with space for two adults (and a small child)
Extra bed (dining area converted)
Nice outdoor toilets and outdoor baths
Campfire right by the cottage
Possibility of an outdoor spa, sauna and surf
Food truck, café and bakery on all weekends and holidays
Surf shack can be booked on the website
For more info, Lynæs Surfcenter can be contacted at +4529877766