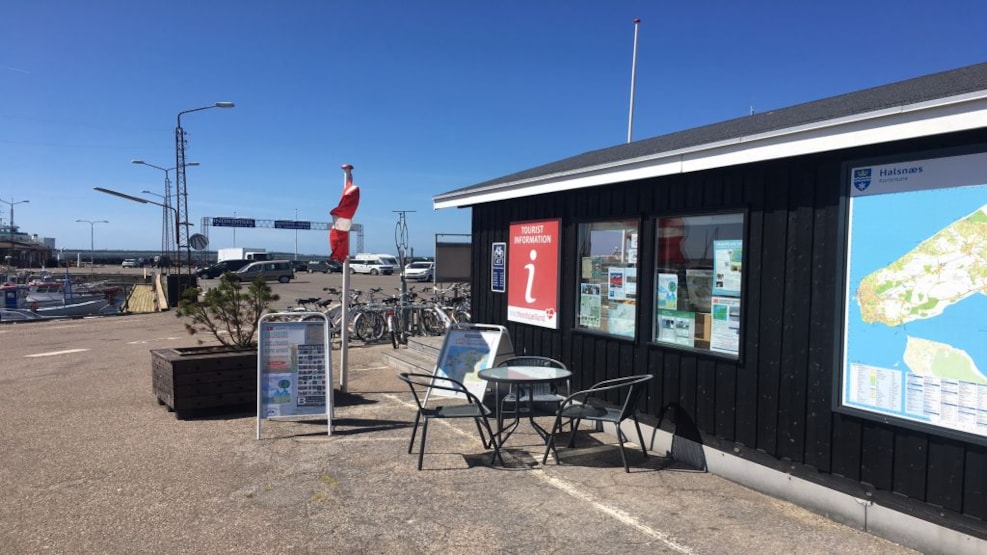 VisitNorthsealand Hundested Turistinformation
The tourist information is placed at the harbour in Hundested. Next to the ferry to Rørvig and in the middle of the harbour. In walking distance to restaurants and sights. 
Welcome to the tourist information at Hundested Harbour.
The shelves are filled with the most beautiful catalogues from North Sealand and the rest of Denmark. In addition, we have sales of various bicycle cards from the area and North Sealand.
In addition to the large holiday magazine My Northsealand in Danish and English, the Northsealand map and city maps from 7 different cities, we have lots of special brochures about, e.g. Frederiksborg Castle, the Parforce Hunting Landscape, Louisiana, Museum North Sealand, cycle routes, the Danish Nature Agency's leaflets and most major attractions in and near North Sealand as well as selected brochures from the rest of Denmark.
We help find accommodation and tips for good places to eat, suggesting exciting trips in the area. We also offer bike rental. Price per. day 50.- and sale of fishing licenses.
Finally, contact us - we are not far away.
We are ready behind the screen, in front of the phone, ready to talk, guide and chat with you online. Every Monday-Friday from 9 am to 3 pm, you can use our chat feature on the website. We also stand by the phones, and you can also send us an email.
Brochures and map materials:
Brochure racks have been set up around Hundested harbour, Lynæs, Frederiksværk and Liseleje with our Holiday magazine for North Sealand, experience maps, and North Sealand maps/bicycle maps, which are free to bring.
You can get a brochure in these places:
Hundested-Rørvig The ferry waiting room at Hundested harbour
Fjordens Ishus, Café and miniature-golf, Hundested harbour
Hundested Sand Sculpture Festival, Hundested harbour
Halsnæs Bryghus, Hundested harbour
Hundested Harbour Office
Hundested Kro & Hotel
Hundested Library, Nørregade 61
Lynæs Surfcenter, Lynæs Harbour
Frederiksværk Library, Torvet 41, Frederiksværk
Frederiksværk Camping & Hostel
Gjethuset, Frederiksværk
The information wall in the INoord Center, Frederiksværk
Lisestuens Isbar Liseleje
Café Haveje, Liseleje
Liseleje Bath Hotel, Liseleje

Buy brochures and maps online.
You can buy all our brochures and maps and some bicycle maps of North Sealand on our website.