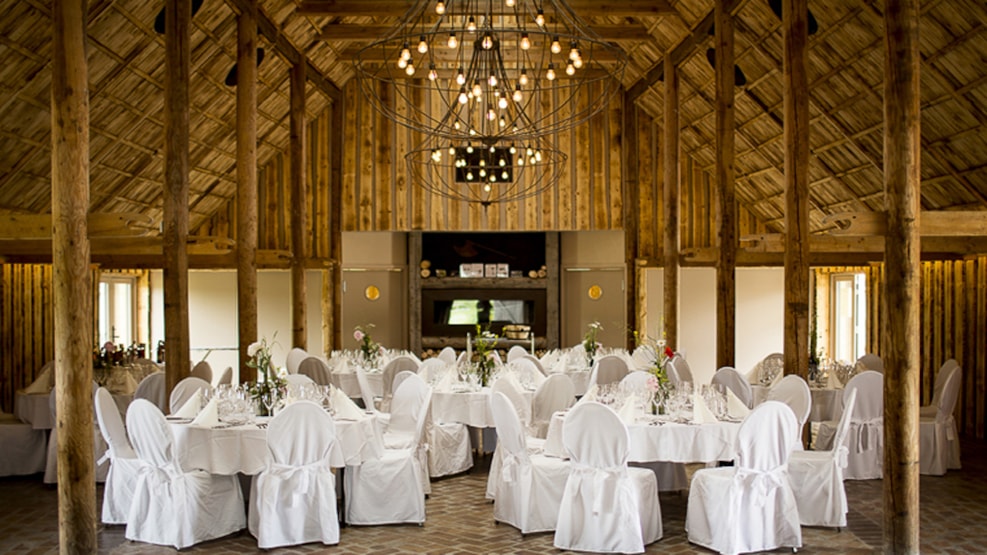 Wedding at Nordic Park
Nordic Park lies as a peaceful oasis in North Sealand, surrounded by a beautiful, sealed off natural scenery – a modern holiday and conference centre, with totally unique facilities for creating the framework to your dream wedding and unforgettable wedding party.
When you are getting married and giving a wedding party you dream of the perfect, unforgettable day. In Nordic Park lies Valhalla in the middle of our impressive green surroundings, with lakes and an amphitheatre, creating the perfect framework for your great day. If you are looking for the place for a rough Viking wedding, a barn wedding, or the super romantic one, only the imagination sets the limit.
If you are dreaming of an outdoor ceremony on the amphitheatre stage, or perhaps in our Bedouin tent, or elsewhere in the park, all possibilities lie open. Afterwards the reception and wedding party can be held in Valhalla.
Valhalla is built with inspiration from the architecture of the ancient Vikings. There is a scent of wood, the atmosphere is rustic, and the whole building creates the perfect frame for the great occasion. The building is heated and fully insulated, and equipped with a modern lighting and sound system.
In connection with the reception room there is a fully functional industrial kitchen where all the gastronomic magic can be created. You can choose to bring your own cooks and so on, or we can recommend our usual collaborators.
When the party is held at Nordic Park you have the possibility of disposing of the whole park, you can either rent the whole park in order to have it all to yourselves, or you can rent the facilities you wish to use. Moreover we can offer overnight stays for your guests in our flats or rooms. We have 10 large modern holiday flats, each with sleeping room for 6-7 people, and also a row of rooms with 20 sleeping places in all. Totally we can offer overnight stays for 90 people. In case more places are needed we cooperate with the nearby hotels, and it is also possible to bring your own camper or tent.
With us the possibilities are infinite, to make the party unforgettable.