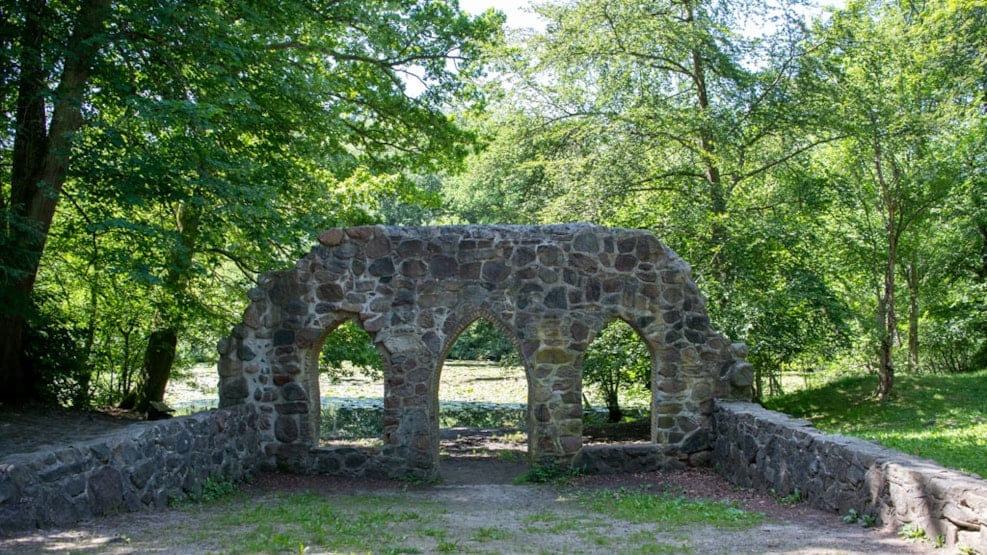 Fantasiens Ø - The Island of Imagination
The Island of Fantasy is a secretive place that appeals to imagination. The island is located in a lake in a forest near Hillerød - and it is full of good stories.
The Island of Imagination is a secretive place that appeals to your fantasy and imagination. The island is situated in a forest close to Hillerød - and it is packed full of fantastic stories.
When Frederik Vll was the King of Denmark, he occasionally needed to escape his royal duties at Frederiksborg Castle. He did not care much for court life. Instead, he thrived in nature. He built his own little sanctuary; a light palace tucked away by the road on an island in Breddam Lake in the Præstevangs forest. Here he could fish and relax under informal norms, along with Countess Danner. The island was actually a peninsula, but the King had a canal dug so the couple could remain undisturbed.
A romantic castle under the starry sky.
The little light palace was built in 1859 in the romantic English garden style, in rough granite boulders with elegant arched windows. It measured 7.5 x 10 m and consisted of a large hall or dining room and a two-story annexe with a kitchen and four bedrooms. The ceiling of the hall was decorated with oyster shells and bottles in a pattern, which, when the light from 3 large oak chandeliers hit the glass, transformed the ceiling beam into a starry sky.
Today you can only see a granite boulder gable with pointed window arches; you, therefore, have to use your imagination to see the palace itself. The Annex house was demolished in 1905, and the dilapidated main building was removed in the 1960s.
On the left hand, before reaching the ruin, lie the remains of a stone hill. It was supposed to lead your thoughts to ancient times and the Nordic mythology, in which Frederik Vll was very interested. However, the hill had a practical purpose; it hid the island's toilet.
Today you can also see a large bowl-shaped stone, which the King claimed was the old baptismal stone from the Ebelholt Monastery, but it was, in fact, a water trough for horses. To the right is a stone with the King's monogram.
Landscape design
The design of the Islands of Imagination was by no means random but carefully planned. E.g. all species of Danish trees are represented on the island, and there are several historical and architectural references.
Do you want to know more?
Listen to the interesting story about the Island of Imagination, with even more details on the audio guide, tel. +45 9940 0515.
Where do you find the Island of Imagination?
Breddam Lake in Præstevangen is located in the northern part of The Great Deer Park (Store Dyrehave). Free hiking leaflets over The Great Deer Park with references to the Island of Imagination can be downloaded from www.sns.dk