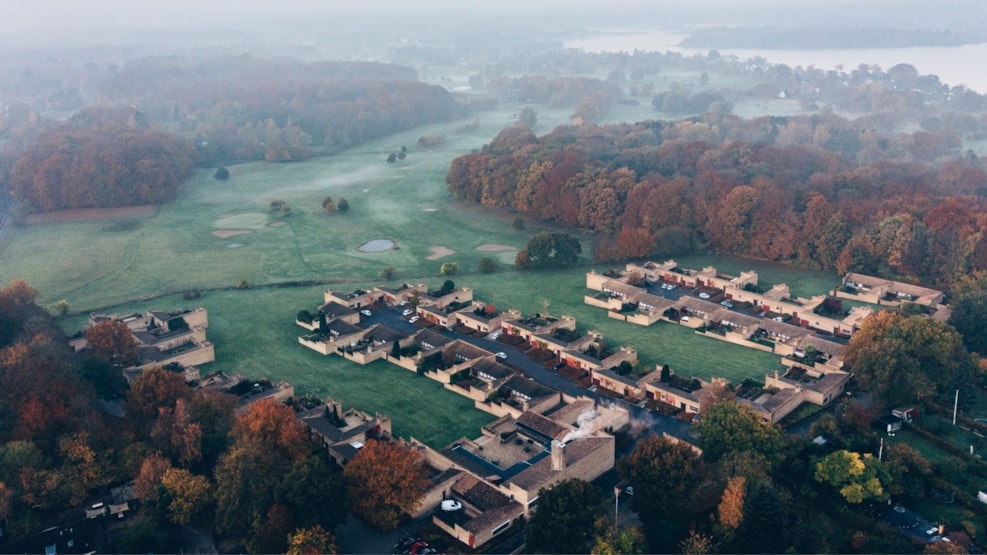 Fredensborghusene
Jørn Utzon's Fredensborghuse was built in 1962-63 on the initiative of the association Danes Worldwide. Today, the building is considered an architectural gem. You can experience the architecture when you visit the museum.
Utzon was inspired by the Chinese building style, and Fredensborghusene is a further development of the houses in the Forbidden City in Beijing. The complex consists of 30 terraced houses, 47 angle-built farmhouses and a communal house with restaurant, function rooms and nine guest rooms.
Visit the museum
Access to the museum and tours are provided by the residents of Fredensborghusene, who often open their own homes to visitors.
Individual visitors: The museum is p.t. open every Thursday from 13.00-to 16.00. The admission price is DKK 50. pr. Person and includes a cake and a cup of coffee or tea. Children under 18 have free admission with a paying adult.
Groups: Groups can visit the museum by individual arrangement. A group visit includes lectures, a tour with house visits and a cup of coffee or tea. Price 100 KR. Pr. participant
For group visits or questions, contact the museum by email: museum@fredensborghusene.dk or telephone + 45 48 48 12 02 weekdays between 10 and 12.
Museum content
The museum seeks to create a visual narrative about architect Jørn Utzon, his philosophy and visionary, original architecture, the buildings 'refined use of materials and constructions, and the unique understanding of the places' building culture and uniqueness. Find more information about the museum.