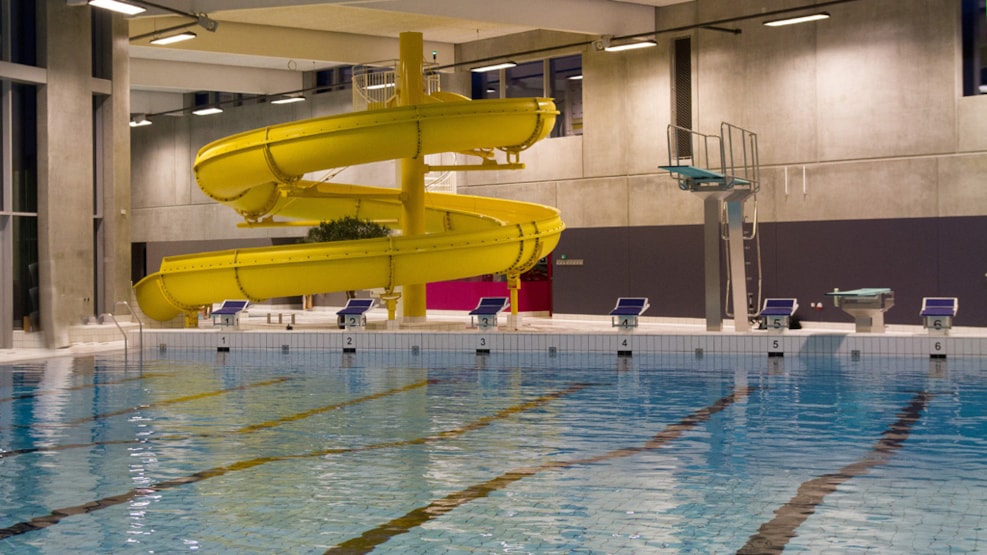 Gribskov Swimming Pool
The Helsinge swimming centre is for everyone, whether you are an elite swimmer or recreational visitor looking for some splashing fun.
The swimming centre has a 25-metre pool, a hot water pool with 34C water, 1 and 3-metre dive boards, a paddling pool for toddlers and a long waterslide. In addition, there is an indoor sauna and steam room.

Changing facilities
There are men's and women's changing rooms, which both have lockers and facilities for washing and changing infants. There are two separate disability/family changing cabins with two showers. There are lockable cabinets outside these cabins. You cannot rent swimwear, towels or goggles, but there is a small selection of swimwear, bathing caps and goggles for sale in the swimming centre.
Opening hours
The swimming centre is open all week. Sometimes, sections of the pools will be reserved for swimming lessons, but you are always welcome to come and try the facilities. During national holidays and school holidays, special opening hours may apply. See opening hours for Gribskov Svømmhal here.
Ticket sales and admission closes one hour before the swimming pool.