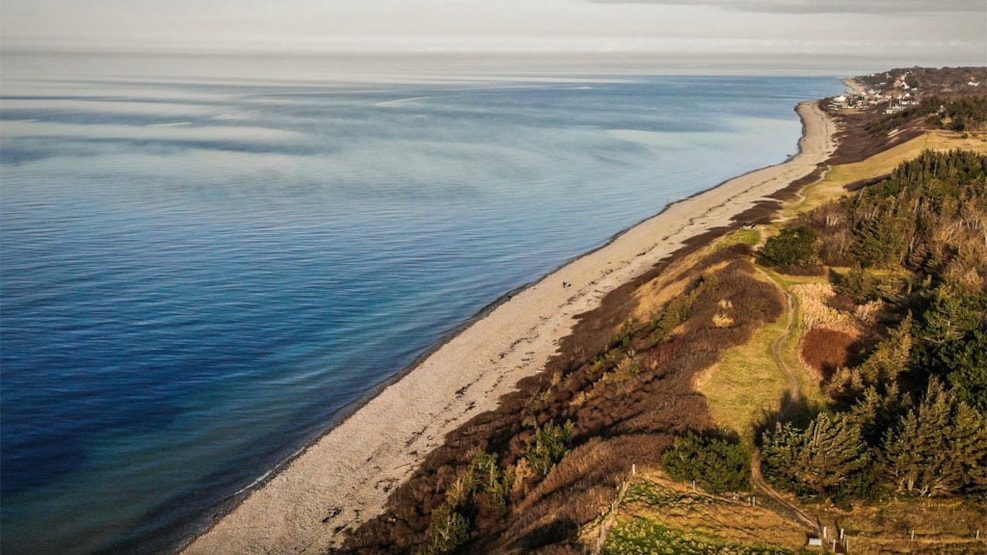 Heatherhill – heather, hills and original nature by Kattegat
Heatherhill is an open preserved natural reserve with beautiful grass and heathery hills which resemble the Scottish highland. However, Heatherhill lies in North Sealand near Rågeleje with impressive slopes of 15-20 metres facing the beach and Kattegat. Experience a piece of the original North Sealand nature with a great biodiversity in flora and fauna.
The ice formed the landscape
The great hills and valleys of Heatherhill were formed during the last Ice Age. The melting ice carried sand and gravel, which settled at the ice edge, whereby the large ridges along the coast were formed. Dalstrøget, between the beach and the parking lot, was created by a giant glacial stream which dug into the ground. Later on, the material in front of the 15-20 metres high coastal slopes was removed by the sea. Over time, the wind has laid a sand layer over the ground, especially during the sand drift from the 16th-18th centuries.
North Sealand 100 years ago
In Heatherhill, there are many different low species of plants which are typically found on moors and open grazing land, which, along with scattered brooms and junipers, dominate the area. This type of plantation covered most of North Sealand 100 years ago, and thanks to nature conservation, they are still to be found here. The lovely windflower and bloody crane's bill bloom in the spring and summer, where heather and crowberry cover the hills in large mosaic surfaces of rose-pink and purple in late summer.
Do you love butterflies?
The life of insects in Denmark is struggling; however,  Heatherhill's diversified plantation offers favourable conditions for butterflies. Therefore, you can also experience many different butterfly species. It is one of Denmark's best butterfly locations. The caterpillars of each butterfly species depend on a few specific plant species to survive. The rich biodiversity in the low, flowering vegetation makes Heatherhill the ideal habitat for butterflies that are a rarity in the rest of Denmark.
Why is it called Heatherhill?
Heatherhill was the name of the area's largest property, a summer residence belonging to a wealthy English director, Vincent. He helped secure the area against parcelling in 1947 to preserve its special nature. In 1958, when the area was preserved, the natural choice when selecting a name was Heatherhill. The property was demolished long ago.
Hikes and trip suggestions
The fascinating country invites you to a hike, and the possibilities are plenty. Heatherhill is located on both sides of Rågelejevej with a parking lot with a kiosk and toilets on the south side. From the parking lot, you can go on several hikes in both directions, e.g. the Vincentstien (the Vincent path) through the hills towards the beach and the sea.
Find cards with hikes in Heatherhill.
See and download the brochure about Heatherhill