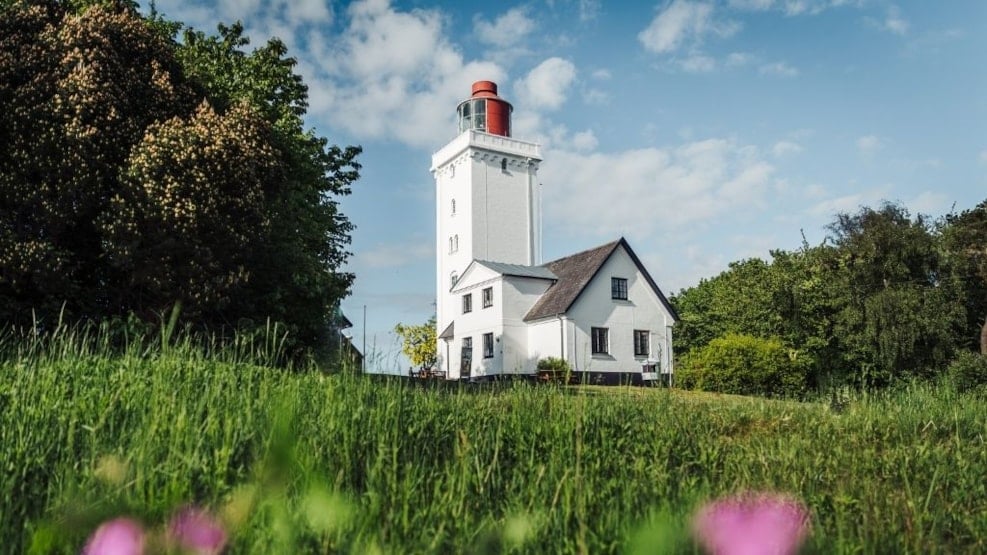 Museum of Lighthouse History | Nakkehoved Lighthouse
Visit Nakkehoved Lighthouse and the Lighthouse History Museum and enjoy the impressive sea view over the Kattegat and the Sound from the lighthouse's top.
The beautiful white Nakkehoved Lighthouse towers high above the blue-green sea surface. Since 1772 it has been warning shipping of the dangerous grounds near Gilleleje, where many ships sank on the international sailing route through the Kattegat.
Today you can visit the Lighthouse History Museum, which tells Danish and international lighthouse history.
Nakkehoved has two lighthouses.
The Nakkehoved Lighthouse consists of two lighthouses, one east, and one west, erected in 1772. There is only one lighthouse on Kullen on the opposite Swedish coast. Thus, international shipping could differentiate between the Danish and Swedish coasts based on the number of lighthouses.
Both lighthouses are attached to a lighthouse keeper's residence. The house at the western lighthouse is now a museum. The two lighthouses of Nakkehoved are nationally and internationally a rarity and are therefore protected.
The Museum of Lighthouse History
In 1772 two coal-fired lighthouses were built at Nakkehoved to protect shipping from the north from stranding on the dangerous north coast. The lighthouse Nakkehoved Østre Fyr is one of the few remaining coal-fired lighthouses in the world.
In 2005 the western lighthouse opened as a museum of international lighthouse history. From the tower's top, you have a fantastic view of the Øresund, the Kattegat, and the inland with the Grib forest.
Museum shop
The museum has a small museum shop where you can find souvenirs, old-fashioned toys, books, postcards, and posters. It is also possible to buy cold and hot drinks.
A beautiful excursion destination
Nakkehoved has been a popular destination since the 1830s. Enjoy the beautiful sea view and the incredible coastal landscape, take a walk along Fyrstien and go down the stairs to the beach and jetty at Fyrkroen. There are tables and benches around the lighthouse, so enjoy your homemade picnic with a sea view. Or visit the cozy Fyrkroen nearby for a delicious meal.
Practical information