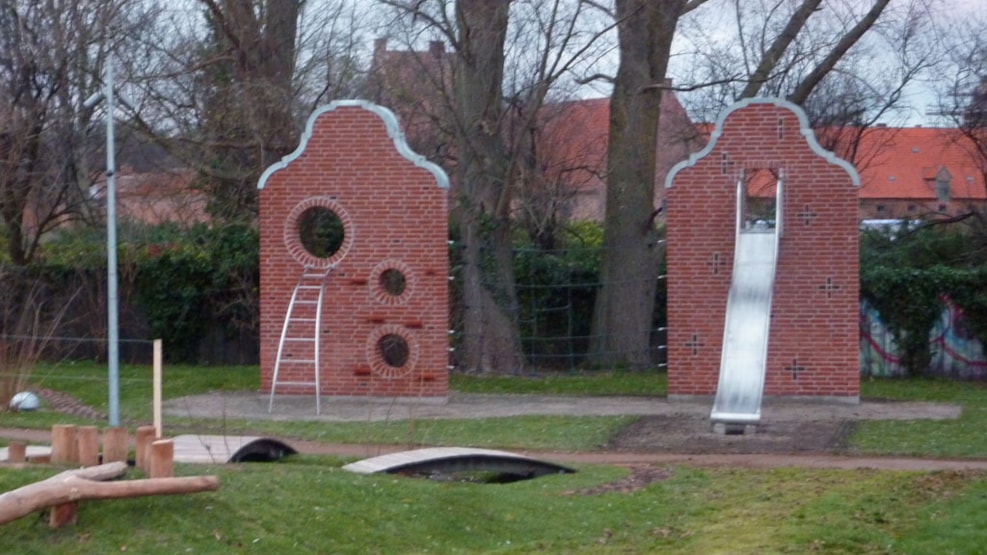 The par force playground at the Castle Lake
Now the little ones and the grown-ups can play their way into Hillerød's history and the UNESCO World Heritage, the par force hunting landscape.
Playground inspired by Hillerød's history
A new and different playground was inaugurated in December 2018 in the park, Posen, which lies between Fisketorvet and Castle Lake in Hillerød. It is inspired by and has references to Hillerød's royal history and the par force hunting landscape in St. Dyrehave and Gribskov forest, which surrounds the city.
Iconic gables
Two freestanding red brick gables in Renaissance style are the playground's signature, with Frederiksborg's authentic Renaissance architecture as the background. But here, the walls are turned into climbing wall and slide!
Landscape in miniature
The surrounding terrain is designed with small hills, bridges, paths, obstacle courses and planting, which over time will create the illusion of forest and secret trails. There is the leading star site, like in the real par force hunting landscape.
Play creates light
On a new 'energetic', the children can generate light by physical activity. Also, there is a small castle pavilion to play in and a track for action on play scooters.
For the little ones
For the youngest, there is a bird's nest swing, wooden playground equipment and a sandbox with a table shaped like a coat of arms.
Picnic at the playground
Bring your lunch box; there is plenty of room for a picnic on the lawn with views of the castle, the castle lake and the busy birdlife on the lakeshore. I look forward to visiting a high-quality playground with built-in tales of the castle, town and landscape.