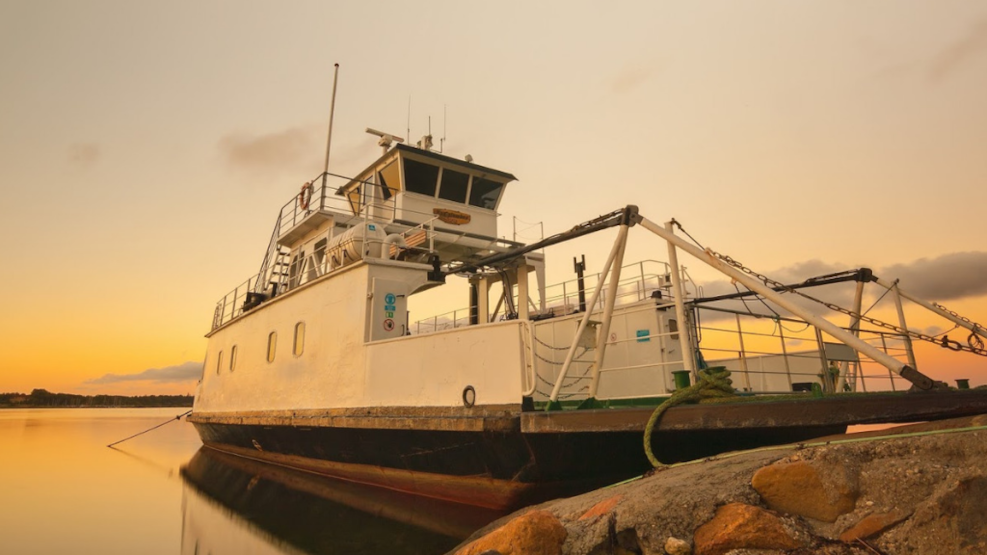 Sølager - Kulhuse ferry
The quick way between Halsnæs and Hornsherred with the small charming ferry Columbus.
Hop on a bike or take the car. Should the trip go to either Hundested or Jægerspris? The small Columbus ferry takes you 8 minutes from one part of the country to another.
The small ferry sails from Kulhuse in Hornsherred to Sølager by Hundested from 7. June - 30. September. During the winter period, you must drive over Frederiksværk and Frederikssund.
Take the bike or car with you
There are lots of experiences waiting to be unfolded on both sides of the fjord. Take, for example, the beautiful bike ride through the North Forest at Jægerspris and see the old King Oak, which is Northern Europe's oldest tree. On the trip through the forest, you also come to the old Jægerspris Castle, where you can explore the castle park, the museum and the memorial grove.
In Hundested, you can explore art and culture at Hundested harbour. Here you can visit exciting glassblowing with a working workshop, experience the famous Sand Sculpture Festival or just let yourself be pampered with some good food on the quayside overlooking the sea and fjord.
The Polar Explorer's exciting museum, Knud Rasmussen's House, is beautifully located just a short bike ride from the harbour. Here you can experience Greenland through the polar researcher's own stories.
Timetable and prices
The ferry sails as needed throughout the day. The crossing time is 8 minutes. For sailing times and prices, please refer to the ferry's website www.mfcolumbus.dk From Sølager, there are approx. 4 km to Hundested town and harbour and about 2 km to Lynæs Harbor and approx. 8 km to Frederiksværk.
Payment can be made on the ferry with cash and payment cards (Dankort, Visa, Visa Electron, Mastercard, Maestro, JCB Cards, American Express.)
Departure weekdays from Kulhuse at 7.30 and weekend at 10.00 Then the ferry sails as needed until the last trip. Please use the signal.
Capacity: The ferry has room for 8 cars and 70 passengers. The ferry includes cars, caravans, bicycles and pedestrians.

Take the Isefjord around with 4 ferries
With a joint ticket for the four ferries that can take you around the Isefjord, you can get an experience in the Fjordland. The trip around the Isefjord is a beautiful and often an undiscovered opportunity.
Here you will find beautiful and varied nature with kilometres of sandy beaches, forests and landscapes with manors, churches, cosy villages and fine market towns.
In addition to the M / F Columbus, the Orø ferry from Holbæk-Hammerbakke and the Hundested - Rørvig ferry are included in the trip. Tickets for the trip can be purchased on the ferries. Tickets for the trip are ONLY valid in the period 1 April-30 September. You can use both a car and bicycle and motorcycle.