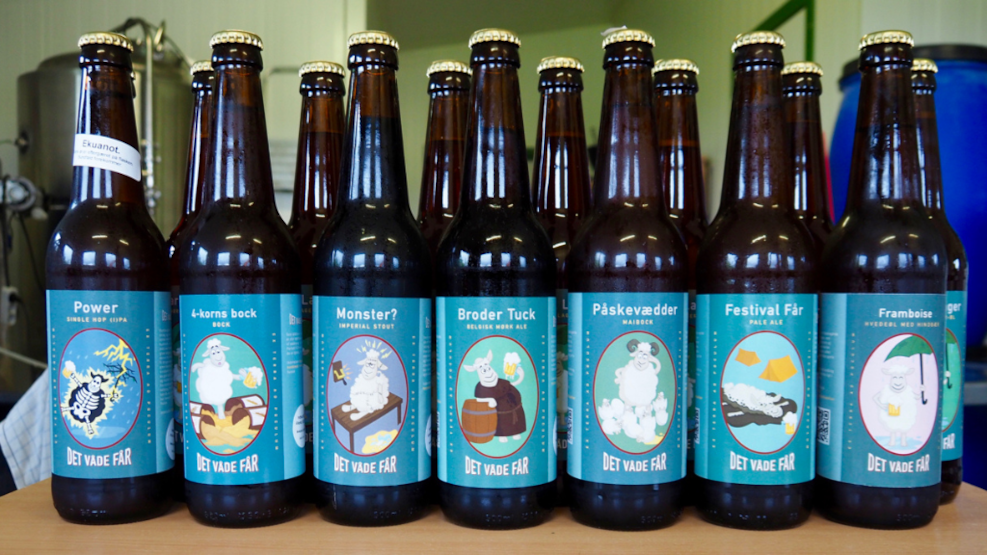 The Wet Sheep | Craft brewery in North Sealand
Det Våde Får is a small local brewery in North Sealand. Here the beer is brewed from scratch, even the hops are picked out in the fields.
Beer is produced here, which promotes presence, cosiness and laughter and inspires conversation about good ingredients and locally produced food.
Tolykkegaard is an organic farm near Helsinge. Here the beer is made from scratch, as they themselves say, "from soil to glass".
Where
The Wet Sheep (Det Våde Får) is located on Tolykkegård in the middle of Gribskov municipality. Agriculture is organic and includes several branches of production: cultivation of grain, both bread wheat and malting barley, a sheep herd, beekeeping, apple orchard and not least the brewery.
Raw materials
The brewery focuses on good ingredients. The malt is produced from own malting barley, spices are grown on the farm or gathered in the local area, and attempts are even made to grow own hops.
Crafts
The brewery is quite small, and the cooking vessel is only 425 litres. There is no form of automation, so the result is highly dependent on the brewer's attention and abilities. The small cooking vessel means that the individual brews will only be 350 - 600 litres. But it is seen as an advantage because then many different brews can come through during the year. Typically, 25 different beers are produced in one season, and there is always a fairly large selection to choose from.
Experience Sheep's beer
The beer is mainly sold in the local area, i.e. Gribskov and Halsnæs municipality. You can find the beer in several smaller shops and farm shops, as well as in some restaurants and cafés.
Here you find a dealer list of places, where you can expect the beer to be on the shelf.
Opening hours at the brewery
You are always welcome to come to the brewery, which is open every Friday from 5 pm - 7 pm.
Get closer to "the Sheep"
If you want to experience more than just drinking beer, "The Wet Sheep" offers the following activities:
Beer tasting
Organic farm walk (with beer)
Brewing course
Company arrangement
Friday bar
Rental of draft beer plant