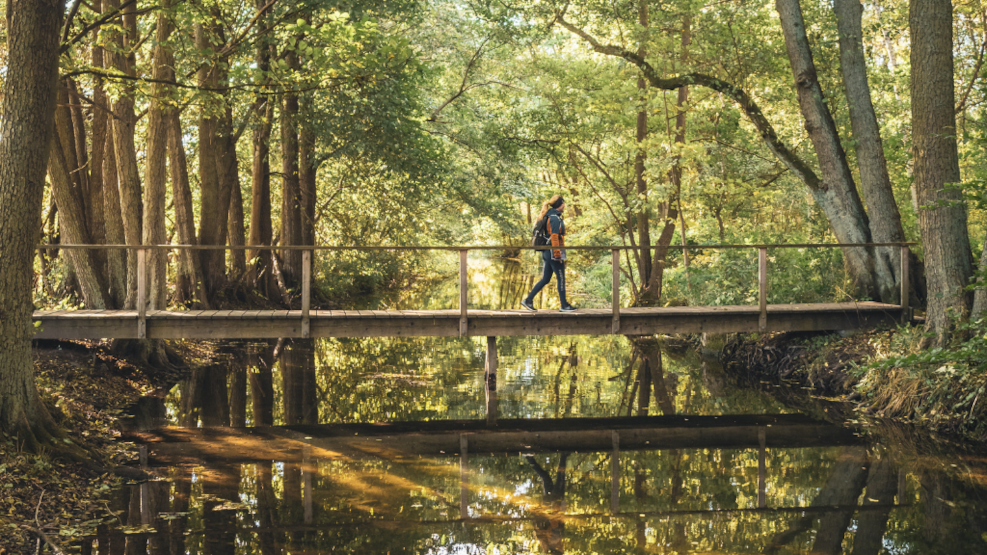 Walk in the Footsteps of Monks on the Hiking Trail Around Esrum Abbey
On the hiking trail around Esrum Abbey, you walk in the footsteps of monks. Experience the area and its significance for the powerful medieval monastery. The trail is four kilometres long and offers three experience tracks.
Walk in the Footsteps of Monks
Travel back to the 13th century. Back to mediaeval Denmark, where religion permeates all aspects of society, and priests and bishops are almost as powerful as the king.
In the 13th century, Esrum Abbey is the centre of the Cistercian monk order and the mother abbey for Scandinavia and Northern Germany. Experience what life was like at the powerful Esrum Abbey as you follow the hiking trail.
A Four-Kilometre Walk Around Esrum Abbey
The hiking trail covers four kilometers of terrain around Esrum Abbey. The trail is designed for both children and adults, so bring the family for a hike or go alone for peace and contemplation.
Follow the trail by following the signs with green arrows in a white circle.
Visit Esrum Abbey & Millyard with a Playground, Events, and Exhibitions
Follow One of the Three Experience Tracks
The hiking trail has three experience tracks, each with its own theme. Each track has five stops along the way where you can read about the theme's significance for Esrum Abbey. The three themes are:
Animal Track (green stops)
Lynx / Stoat
Woodpecker
Butterflies and insects
Red-backed shrike
Swallow
Water Track (blue stops)
Esrum watermill
Daniel's spring
The meadows by Esrum Lake
Esrum wood canal
Monks' watermill
Monastery Track (brown stops)
Esrum Abbey
The rich soil in Esrum
Monks' lake
Monastery wall
Clay ovens
Remember to Respect Nature
Be mindful of animals - keep your dog on a leash
Show consideration to other hikers
Follow only authorised roads and signposted paths
A Collaboration with Kongernes Nordsjælland National Park
The hiking trail is a result of collaboration between Esrum Abbey and National Park Royal North Zealand. It is Denmark's second-largest national park and includes Denmark's largest lakes and several UNESCO-certified areas.